Ragamala Dance Company
Northrop Presents
Ragamala Dance Company
2020-21 Northrop Season
Sat, May 1 at 2:00 PM
Sat, May 1 at 7:30 PM
Carlson Family Stage at Northrop
84 Church Street SE
Minneapolis, MN 55455
Live Stream Option available for 7:30 PM performance
This event will be captioned, with other accessibility services available upon request.
Performance preview: Fri, Apr 30 at 6:30 PM
Prepaid Parking at Church Street Garage:  $11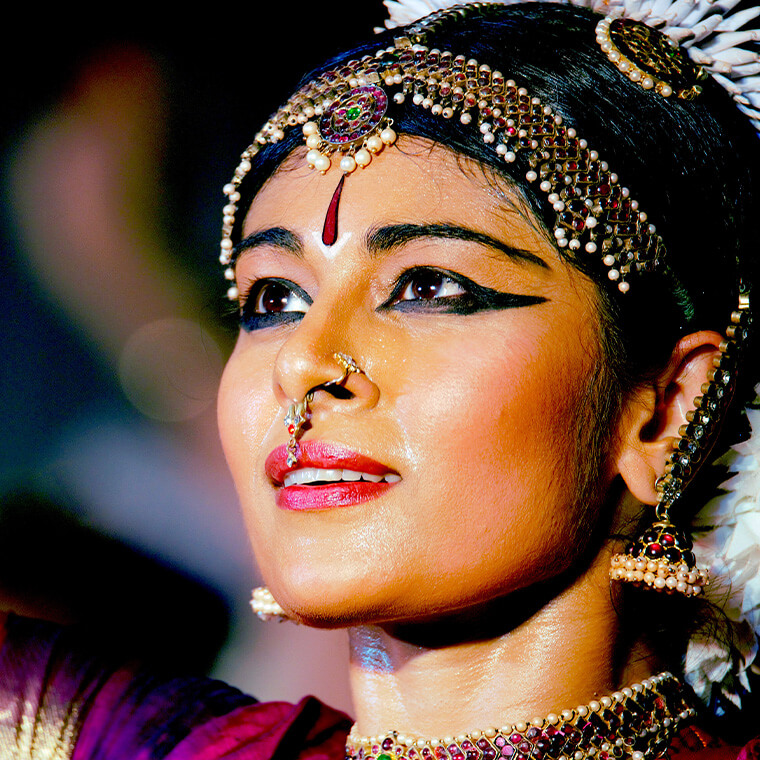 ABOUT THE EVENT
Ranee Ramaswamy and Aparna Ramaswamy's
Fires of Varanasi
Co-artistic directors Ranee Ramaswamy and Aparna Ramaswamy 's work embodies the artistic and spiritual traditions of India while creating a dialogue about the contemporary human experience. Fires of Varanasi , the culmination of an academic-year long partnership with Northrop , is a ritual for the stage where time is suspended and humans merge with the divine. Ragamala's exquisite Bharatanatyam choreography, layered with an original score and an immersive set design, expands upon the birth-death-rebirth continuum in Hindu thought to illuminate immigrant experiences of life and death in the diaspora.

— "Ragamala shows how Indian forms can be some of the most transcendent experiences that dance has to offer. This is an excellent company… Aparna Ramaswamy is an enchantingly beautiful dancer." ( The New York Times )

Related Events:
ENCORE
Inspiring Positive Change
Sat, May 1 at 9:00 PM
Northrop Plaza

Celebrate contributions by artists for inspiring change in our world. This is a post-show event following the performance of Ragamala Dance Company, including live music, dancing, and special programming from Ragamala Dance Company's co-artistic directors as well as Northrop Leadership.

Pico Iyer in Conversation with Ranee and Aparna Ramaswamy
A Talk About Ancient Indian Traditions in a Modern, Diasporic World
Tue, Oct 13 at 7:00 PM
Online Event
FREE and open to the public, registration required

Join renowned essayist, TED talk favorite and upcoming Dartmouth Montgomery Fellow Pico Iyer, an observer of art and culture, and Ragamala Co-Artistic Directors Ranee and Aparna Ramaswamy. These three leading member of the global Indian arts and culture community look at the way ancient traditions manifest themselves in the modern world. They also discuss their shared fascination with the Indian city of Varanasi, where Hindu burial rituals on the sacred Ganges River reach ecstatic, aesthetic heights.

Foods for the Souls: Food Rituals in the Diaspora
Thu, Nov 5 at 5:30 PM
Online Event
FREE and open to the public, registration required

In India, food is symbolic of Annapurna - the goddess of food and nourishment - and is an integral part of ritual and festival. Novice and aspiring chefs alike can join this cooking demonstration presented by award-winning Twin Cities chef Raghavan Iyer, who will discuss the interconnectedness of food, art, and ritual in India with Ragamala Dance Company's co-artistic directors Ranee Ramaswamy and Aparna Ramaswamy. Cozy up to your computer, and learn about these dishes, or cook along with the group to make a meal in your own home!
Contact us:
U of M Tickets and Events
Northrop
84 Church St SE Suite 013
Minneapolis, MN 55455
Phone:
612-624-2345
Fax:  612-625-4008
https://tickets.umn.edu
Email: 
umntix@umn.edu
Hours:
Mon - Fri: 12 Noon to 5 PM