Ronald K. Brown/EVIDENCE - 35th anniversary season
The Joyce Theater, Northrop, DANCECleveland, and Tri-C Performing Arts Present
Ronald K. Brown/EVIDENCE - 35th anniversary season
2020-21 Northrop Season
Thu, Feb 18 at 7:00 PM CST (premiere); Live Streaming Online
Performance available on demand through Thu, Mar 4, 11:59 PM CST
This event will be captioned, with other accessibility services available upon request.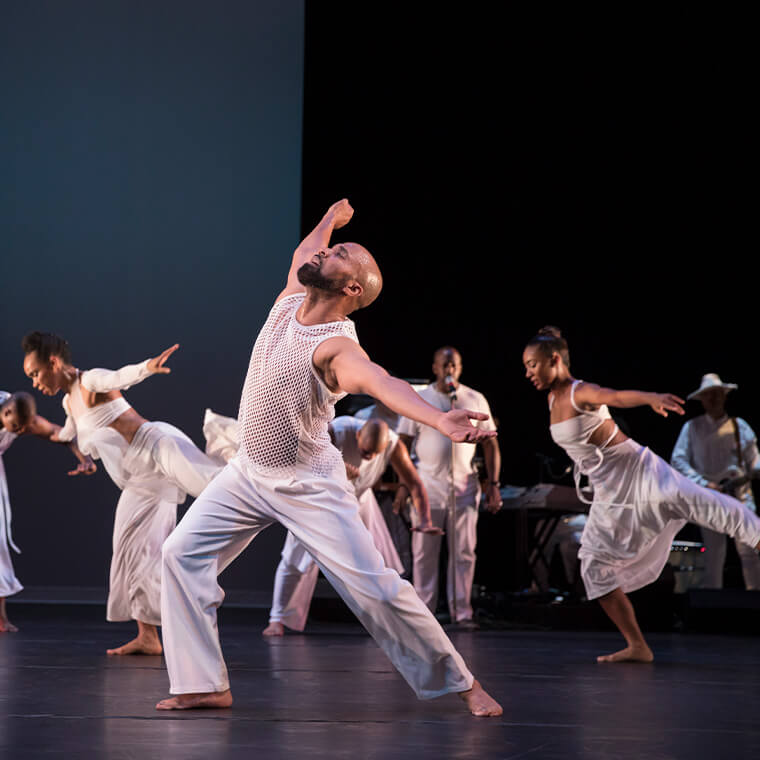 ABOUT THE EVENT
Mixed repertory including
Solo
from Grace
For You
She is Here
Palo y Machete solo
from One Shot
March
Mercy
(socially distanced version)
Celebrating its 35th anniversary, Ronald K. Brown/EVIDENCE's body of work blends contemporary, African, Caribbean, and social dance forms to express spirituality, African-American and diaspora culture and the beauty of movement in many forms. For this special online program, the company has assembled a selection of solos and duets from their repertory including the luminous solo from Grace , Brown's breakout piece performed first by the Alvin Ailey American Dance Theater 20 years ago. The program also features a socially distanced version of Mercy , an ethereal movement meditation that seeks to guide our hearts set to music by Meshell Ndegeocello.

"...'Grace' achieves grace, like an answered prayer, but 'Mercy' is a plea for mercy, as yet unanswered. It's honest, and the truth it tells should make us all the more grateful for anything like 'Grace'." (The New York Times )
---
Related Events:
Let's Say Grace and Talk About It
Mon, Feb 15 at 7:00 PM
Streaming Online
An online community conversation with Ronald K. Brown and special guests that will explore both the aesthetic forms of Grace as a way of artistic expression and the human forms of grace as healing and empowerment.
Panelists will include Ronald K. Brown, Artistic Director of EVIDENCE, Dr. Jon Halberg, Director, Center for the Art of Medicine, University of Minnesota Medical School, and additional artists and front-line workers.
EVIDENCE All-Levels Community Dance Class
Tue, Feb 16 at 6:00 PM
Streaming Online
EVIDENCE's community dance class strives to bring dancers of all ages and backgrounds together to participate in fun and engaging movement class. Featuring simplified steps from Brown's blended style of contemporary, African and Caribbean dance styles, class begins with a warm-up and continues with movements that teach rhythm, using the body to express ideas. Themes of strength, prayer, and celebration are incorporated into the movement. Participants should dress in loose-fitting clothing. No dance experience, level, or age requirement is needed--just an open heart.
Film Series/Performance Preview:
Screening of Grace followed by Q & A with Ronald K. Brown
Wed, Feb 17 at 6:30 PM
Streaming Online  
---
Contact us:
U of M Tickets and Events
Northrop
84 Church St SE Suite 013
Minneapolis, MN 55455
Phone:
612-624-2345
Fax:  612-625-4008
https://tickets.umn.edu
Email: 
umntix@umn.edu
Hours:
Mon - Fri: 12 Noon to 5 PM